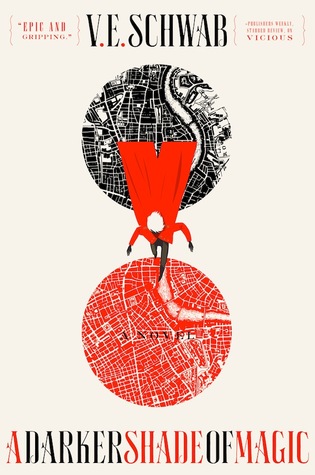 Pub Date: February 24, 2015 
Genre: Fantasy, YA, Fiction, Adventure
Publisher: Tor Books 
Summary- Kell is one of the Last travelers–rare magicians who choose a parallel universe to visit. 
Grey London is dirty, boring, lacks magic, ruled by mad King George. Red London is where life and magic are revered, and the Maresh Dynasty presides over a flourishing empire. White London is ruled by whoever has murdered their way to the throne. People fight to control magic, and the magic fights back, draining the city to it's very bones. Once there was Black London–but no one speaks of that now. 
Officially, Kell is the Red Traveler, personal ambassador and adopted Prince of Red London, carrying the monthly correspondences between royals of each London. Unofficially, Kell smuggles for those willing to pay for even a glimpse of a world they'll never see. This dangerous hobby sets him up for accidental treason. Fleeing into Grey London, Kell runs afoul of Delilah Bard, a cut-purse with lofty aspirations. She robs him, saves him from a dangerous enemy, then forces him to another world for her 'proper adventure'. 
 . . . more.  
Review- 

I got this book through audible a while ago and it's taken me a long time to finish. Not because I didn't like it, I enjoyed it! but I NEVER read audio books so it took a long time. But I did enjoy this book, there were a few parts I didn't quite understand because it was an audio book. But I want to get the physical copy and re-read it because I want to understand it better and Kell was awesome. 
And I loved the black eye. I have a thing for creepy dark eyed people and he had ONE black eye . . . so he was awesome! 
(That's how Kell thinks of himself HAHA) 

I want to get the second book because I want to know what happens next and where everyone goes! I hope that one character *wink wink* comes back.
The two of them just had an adorable connection! The whole time your thinking, "will you just kiss her already?" 

And I also liked the character development in this novel! 

Characters: Let's start with Kell . . . he is an Antari, a magician who can travel to parallel worlds. But not only that but he is an adopted prince, in Red London. 
Kell to me, is a great character. I mean, he is awesome, magical, and smart. But Delilah–Lila is probably the best character. 
Lila is a thief in boring Grey London, and she wants to go somewhere else. So when Kell comes along, she gets to leave Grey London and start her adventure. 
And then there is the prince . . . Rhy. I really liked the crown princes attitude, if I was able to tell V.E.Schwab one thing to change, it would be to have Rhy in the story more! he was in the beginning, mentioned in the middle, and was in the end. But he wasn't THAT into it. So, it would be cool if Rhy is more of a MAIN character in the second book!  

The other Antari guy . . . sorry forgot his name, but I felt bad when Kell . . . you know? I mean, I didn't feel that bad. But it was still upsetting. But it wasn't one of those upsetting moments where you can't continue reading for how sad it is. It's just a sad time where you forget it the next page then remember it later. 
I don't know. 

Setting: I first want to say . . . someone take me to Red London! I love the London's and how there is grey, red, white, etc. I want to go to Red London because it is the magical one . . .correction: the magical one that isn't destroying itself. 
So, Kell if you happen to stop by the chicago area . . . could you um . . . come get me? I'd like to go to Red London. 
You can bring Lila . . . we'd get along great 😉 
she can teach me how to be a awesome thief, even though I think Inej from Six Of Crows is a better thief. 
No offense! but Inej is like a freakin' shadow. One minute you see her, then she's gone. Into the shadows. But I do think Inej and Lila would get along. 
Once again, I got way off track here hehe. 
But overall, A Darker Shade Of Magic was really good and I hope to read book two soon! It's out right? yeah I believe so. 
A big thumbs up to this book! *thumbs up* 
Make sure to read this book and tell me your thoughts! I'd love to hear them! 



About the Author
Info taken from Author's site, https://veschwab.wordpress.com/about/ 
I am the product of a British mother, a Beverly Hills father, and a southern upbringing. Because of this, I have been known to say "tom-ah-toes", "like", and "y'all". I also suffer from a wicked case of wanderlust, made worse by the fact that wandering is a good way to stir up stories. When I'm not haunting Paris streets or trudging up English hillsides, I'm usually tucked in the corner of a coffee shop, dreaming up monsters.

My first YA novel, THE NEAR WITCH, a dark original fairy tale, debuted with Disney*Hyperion in August 2011, and is now out in paperback.

. . . more.