rating score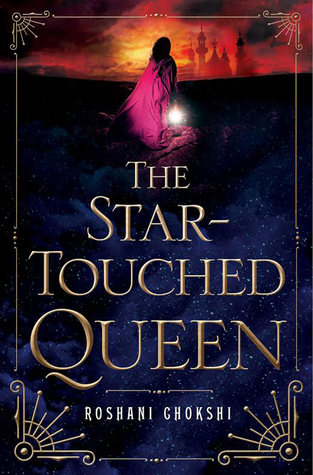 Author: Roshani Chokshi
Genre: Fantasy, YA, Romance
Publisher: St. Martin's Griffin
Synopsis:
Fate and fortune. Power and passion. What does it take to be the queen of a kingdom when you're only seventeen?
Maya is cursed. With a horoscope that promises a marriage of death and destruction, she has earned only the scorn and fear of her father's kingdom. Content to follow more scholarly pursuits, her whole world is torn apart when her father, the Raja, arranges a weddi …more
REVIEW:
Okay, so I got the E-arc of this beautiful book from netgalley. I loved it and the idea and the whole entire story itself. I will admit, I was super super confused at first. But, I re-read a few pages and it made a bit more sense. I get confused easily XD
(I mean, I am literally always confused)
Let's do the characters
Characters- 
Maya, was literally an amazing character. She is strong and smart. I loved how she made mistakes and learned from them, how she just seemed real and not like the perfect character that magically knows something is happening or someone is planning to murder them (I don't know).
Anyways, Maya was a beautifully written character and I have this image in my head I want to draw, but I know it won't turn out the same as it is in my head 😂
Amar, *squeals* as I did love Amar I didn't really connect with his character. He wasn't in it as much as I had hoped, even though he was … He is but he also isn't. (That's not confusing) I wish I knew him a lot more! And I still totally love him! His character was more portrayed as mysterious, and by the end I feel he was a bit less 'mysterious'. A bit. I still want to know everything about him. His childhood, his dreams, him. *stares crazily into space*
Kamala, the demon horse. I was super confused once this happened. I wasn't at all expecting a talking horse, okay I should have been expecting something like this. But I didn't and she was pretty cool. Kamala is actually my favorite character … Horse. (Spoiler highlighted) Because;
Kamala bent her head to the ground, her voice low and shy. "… I could stay with you. If you'll have me. And I wouldn't eat anyone. That is a promise. Unless you asked me to eat someone. In which case, I would be easily persuaded." I drew her to a hug. "You may stay."
Kamala was amazing. Seriously, I want her. Just, that line!
Now, that castle. I want to live in it. It was such a confusing place, but it seemed crazy enough for me to kind of understand it 🙂 and it was gorgeous. As was that one guy who owned it … *awkwardly backs away, tripping over my own feet* 😇
All in all, this novel wad amazing, and don't forget so beautifully written. Holy crap was it beautifully written.
Chokshi did a wonderful job creating this beautiful story, the reason I had given this story a 4 star was because…as the writing was so wonderful, it sometimes was confusing to read. But, it was amazing. Truly amazing.
I hope that other's read this novel and love it as much as I did (or more!)
HAPPY READING, LUVs