Rating Score:
Author: Michelle Madow
Genre: Fantasy, Romance, Mythology, Paranormal
Publisher: Dreamscape Publishing
Synopsis:
A demigod who can kill with a touch. It's an ability that must be kept secret, even from those trusted most.
Finding out that she was a witch was strange enough, but now Nicole must face the realization that she has the rare power to kill with just a touch. No one can know her secret — not even Blake, who she's had undeniable chemistry with since first moving to town.
Now …more
Review-
you may or may not know that I loved book one. It was an enjoyable, quick, cute, and an addicting novel. I loved a certain Blake and a certain Nicole together 😉
I feel horrible that this review wasn't posted a lot sooner, it has been sitting in my drafts for awhile and I need to stop using the excuse "when I switched blogs the drafts were all fuzzy" or whatever. Yes all my drafts didn't switch perfectly. I think I had to manually transfer a few, but seriously . . . it's not that hard to do it.
So, why is this review getting posted SUPER SUPER SUPER late? because I forgot and don't look at my drafts as often as I should *looks pointedly at the stupid drafts that are sitting there*
Anyways, this novel THE BLOOD OF THE HYDRA was super addictive (again) I loved the entire story line. I had favorite parts I won't mention for spoiler reasons, but I will say it involves Blake–and Jealous.
Did I say to much?
Nicole, for most of her life, didn't know she was a 'witch' and like I think I said in my original review for book 1. I loved how they had to focus on a certain color to use their powers and they use electricity. It seems very complicated by Michelle Madow explains it beautifully throughout her story. But Nicole went through a lot from book 1-2 and there's so much more she will be going through that I can not wait to read. She has grown a lot and to see her grow more in book 3 will be exciting!
I forget the guys name, but if Blake wasn't around I'd tell her to go for him instead . . . just saying .
All the characters together have grown, they all are very important to the story and very important to each other. Even if there are differences and they all may fight at times they are one of the best, friend groups in novels.
They are all actually really cute together. As friends and/or couples.
I highly recommend this series to whomever likes Fantasy, Mythology and I guess a bit paranormal . . . maybe.
About the author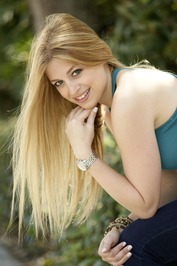 Michelle Madow writes fast-paced YA (young adult) fiction that will leave you turning the pages wanting more!
She grew up in Baltimore, and now lives in Boca Raton, Florida, where she writes books for young adults. Some of her favorite things are: reading, traveling, pizza, time travel, Broadway musicals, and spending time with friends and family. Michelle went on a cross-country road trip from Florida to California and back to promote her books and to encourage high school students to embrace reading and writing. Someday, she hopes to travel the world for a year on a cruise ship.
Visit her website, www.michellemadow.com, to get books of Michelle's for FREE!
HAPPY READING, LUVs!