Rating Score: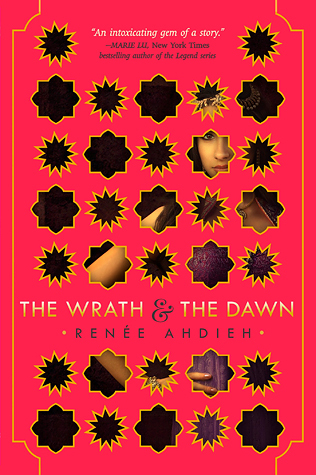 Author: Renee Ahdieh
Genre: Fantasy, YA, Romance, Retelling
Publisher: G.P. Putnam's Sons Books for Young Readers
Synopsis:
One Life to One Dawn.
In a land ruled by a murderous boy-king, each dawn brings heartache to a new family. Khalid, the eighteen-year-old Caliph of Khorasan, is a monster. Each night he takes a new bride only to have a silk cord wrapped around her throat come morning. When sixteen-year-old Shahrzad's dearest friend falls victim to Khalid, Shahrzad vows vengeance and voluntee …more
Review-
I fell in love with every aspect of this novel, It was all so magnificently written and perfect!
I first want to talk about Sharzhad, She was the MAIN character. One of them anyways. I loved her attitude. She first volunteered to marry the boy-king (Khalid) so she can get revenge for what he did to her best friend. But after the first night of not being murdered she slowly begins to fall for Khalid. They are a perfect match and it was amazing. Khalid's lines were perfection and everything Sharzhad said (mostly to Khalid's uncle when he visited) was amazing. She was funny and made a fool out of that jerk. Sharzhad didn't like to be challenged, and that's one of the awesome things about her. She also is very good with a bow and arrow. If I knew how to use it, I would say, the bow is my favorite weapon. But I only used a bow and arrow once, a few years ago in gym, and I was pretty OKAY with it XD.
Khalid and Sharzhad are my favorite people, I really liked the scenes with them together. Literally any scene, minus a couple that I could totally live without. But as Khalid does have his secrets, and even though his secrets are pretty intense. I just hope everything works out in The Rose and The Dagger and it isn't a let down because this is one of my favorite reads of 2017.
I know, I've only read three books. But it is tied with THE BLACK MAGE: APPRENTICE by Rachel E. Carter. These two beauties are top of my list this year!
Back to characters, Tariq was nice. I liked him, but he was not the boy I chose for Sharzhad and he never will be. I was team Khalid since day one. Even when I only knew him to be a wife-murdering-soulless-demon-boy-king-Caliph. Yup. I did really like Tariq's bird . . . that was pretty badass. Can't lie.
Then her father Jahandar, he got this BOOK and he kept it a secret from Irsa and I was really confused and then he killed that animal and I was done. NOPE. I hate him. You hurt a poor innocent animal, I hate him. Hunting for food is different because . . . they all gotta eat. But killing an ANIMAL FOR MAGIC! NO! NO NO NO! just no. I would've been cool if he sacrificed a person . . . but he killed an animal. unacceptable.
I lost all liking to her father, I don't care if he is a wonderful person and loves his daughters very much and wants to help. He killed an animal and I will forever wish he dies-by Khalid.
Sharzhads handmaiden!!!!!!!!! she was my third favorite character! I also liked Jalal al-khoury. What was her name? oh! Despina, I loved her. She was really awesome. And then any time Jalal came around she got all nervous and shy and was all cute and I just wanted to push them together. It just needs to happen. I don't think Jalal can have a relationship because he is captain of the guard . . . but Sharzhad could always convince Khalid to make it happen.
One of my favorite parts of the story was actually the beginning when the new Calipha (Sharzhad) tells the Caliph (Khalid) a story of a man named Agib.
I'll be completely honest here, I was skeptical if I would like this book until she told that story and fell in love already.
Agib's story was amazing. After she refused to continue when it became dawn I was mad myself because I was ENJOYING THE STORY WITHIN THE STORY XD it was excellent.
I give this novel a 5/5 stars it is gorgeous and amazing and Renee Ahdieh did such an amazing job I cannot believe it. I am so happy that I read The Wrath and the dawn it was a mesmerizing story even with the small stories within. and I cannot wait to get my hands on the Rose and the Dagger. Which I'm going to need to buy soon. Real soon. Like now. I'm going into The Wrath And The Dawn withdrawal.
Anyways, I hope you all enjoyed this review and if you have not read this novel I hope you either enjoy it. Unless you don't plan on reading it …
About the author
I CAN'T FIND AN ABOUT RENNE AHDIEH! HER WEBSITE IS COMING SOON AND I CHECKED TWITTER AND STUFF > > > SO INSTEAD I AM JUST GOING TO LEAVE HER LINKS TO TWITTER, ETC.

HAPPY READING, LUVs!