Hello Luvs!
(Update: forgot to post this!!!!!)
To the TBR because I plan on a lot! no I'm not. I'm seriously putting four books and working from there. That's it.
Last month I did so well! I did 7! I'm so happy! And this month I am hoping to get at least four or five but I'm starting with 4 and if that doesn't work . . . I'm screwed. Because I have a lot of ARCs to get to.
To the List!
TBR BOOKS INCLUDE: 
P.S. I Still Love You by Jenny Han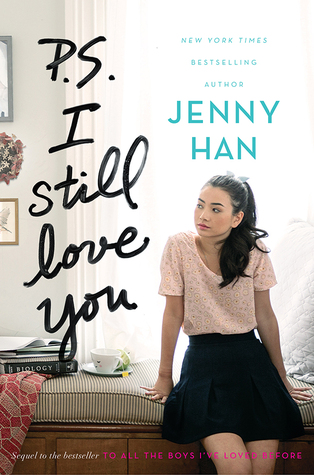 Synopsis-
Lara Jean didn't expect to really fall for Peter.
She and Peter were just pretending. Except suddenly they weren't. Now Lara Jean is more confused than ever.
When another boy from her past returns to her life, Lara Jean's feelings for him return too. Can a girl be in love with two boys at once?
In this charming and heartfelt sequel to the New York Times bestseller To All the …more
Orphans of Tarnalin by John McDonell
Synopsis-
Three young orphans, living on the streets of Tarnalin find themselves fleeing for their lives after pulling off a perfect heist. Forced to flee on a ship, they find their adventure has only just begun. Little do they know that the incidental theft has triggered a series of events that will lead them across a vast wilderness, where they must combat the elements and face th…more
The Glass Sword by Victoria Aveyard
Synopsis-
If there's one thing Mare Barrow knows, it's that she's different.
Mare Barrow's blood is red—the color of common folk—but her Silver ability, the power to control lightning, has turned her into a weapon that the royal court tries to control.
The crown calls her an impossibility, a fake, but as she makes her escape from Maven, the prince—the friend—who betrayed her, Mare un …more
The Black Mage: Candidate by Rachel E. Carter
Synopsis-
Welcome to the Candidacy. Where dreams go to die.
Twenty-year-old Ryiah is a black mage of Combat, but she's not the Black Mage. Yet. She's had her eyes on the legendary robe for as long as she can remember, and in just one year, she will have a chance at her country's prestigious—and only—tourney for war mages… Too bad she is going up against a certain prince—the one per …more
---
So, I haven't done much reading for the first couple days of February but by the 20th I hope to have at least three of these done! But that is my list of books I am hoping to read! I can not wait to actually finish P.S. I STILL LOVE YOU by Jenny Han because I adored book 1, so starting that is going to be amazing and I can't wait.
If you have an good reading recommendations, leave a comment and I'll be sure to add it to my TBR and hopefully read it in the next month or so!
Have a luvely day!
and I have an announcement going up the first week of March! It's going to be EPIC! I hope you guys think it will be too, I'm personally really excited to do this again but . . . BETTER!