Hello Luvs!
Welcome to the 8th interview in MFBLfest!
I'm so excited to have gotten this far already and had such amazing authors! There are still SO many authors being featured on my blog, but, today's author is
STEPHANIE SCOTT
I want to read her book ALTERATIONS so bad! it looks/sounds completely amazing!
ABOUT STEPHANIE SCOTT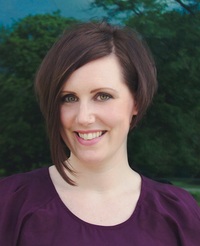 Hello! I write Young Adult stories about teens who put their passions first. I love dance fitness and cat memes, and Pinterest is driving me broke. I live outside of Chicago with my tech-of-all-trades husband. You can find me on twitter and Instagram at @StephScottYA. My debut ALTERATIONS about a fashion-obsessed loner who reinvents herself is a Romance Writers of America RITA® finalist for Best First Book. I'm also a contributor to the young adult short story anthology WELCOME HOME out in September 2017.
INTERVIEW
---
1- how long have you been writing? 
I've been writing fiction about six years, but I've been blogging since the early 2000s and started in college as a journalism major. I've always liked writing, but it took me awhile to learn enough about writing fiction to put together a full novel.
2- Is there a certain genre you'd like to get into?
Here's an exclusive! Besides writing young adult books, I'm working on a contemporary romance right now that will likely be released this year as part of a group series. The roots of the story involve 20-somethings who knew each other as camp counselors in high school.
3- Who designed your (latest) book cover? 
The ALTERATIONS cover was designed by Jenny Zamenak at Seedlings Design Studio. She was fantastic and had a lot of great ideas.

4- Where do your ideas come from?
Do you ever let your mind wander, thinking about your favorite movie, TV show, or something you read, and then think "What if?" Thinking What if this happened, or what if this character grew up in this place but had all these challenges to get what they want. That's what leads me to story ideas. The ones that stick in my head are the ones I pursue.
5- If you weren't a writer, what would you be doing? 
I almost went to art school and grew up drawing. I'm not sure where I would have landed as an artist. Maybe a graphic designer.
6- Do you ever experience writers block? If so how do you get over it? 
I read books. I have a TBR pile that is exponentially growing.
7- How did you come up with your title? 
One of my writer friend's in my critique group came up with ALTERATIONS after many rounds of brainstorming. It's simple and it totally fits for a story about a fashion-driven character who's in the midst of her own big change.
8- what is your perfect writing spot?
The corner of my L-shaped couch in my living room with my husband beside me working on music on his own laptop. It is the exact scenario that is happening right now!
9- What do you do in your free time? 
I'm involved with my local Romance Writers of America chapter, which means I'm coming up with program ideas and talking with all levels of writers from beginner to NYT bestsellers (so fun!). I go to a dance fitness class at the gym that I love. I'm hooked on #bookstagram on Instagram. Come say hi! @StephScottYA
10-Anything you'd like to add? 
I play video games. I like open world RPGs and first person shooters. 
11- Do you write friends, family, or even strangers you met into your novels? 
Not directly, but little influences get in all the time. In a book I just wrote (that will hopefully get published) I have a character who says some of the more ridiculous things my husband says. But the character is a teen girl with a totally different life and background. Very much not him, but parts of her personality are. 
12- If you were a superhero what would your name be?
Stephiroth. I may or may not be a Final Fantasy villain.
---
Lovely Answers and GREAT example for 11! I see a lot of author's DO write people they know into stories but not the WHOLE person just a little quirk from them. It's REALLY cool that they can take that from someone and make their own PERSON.
Thank you Stephanie for letting me interview you! there is no judging of villains here 😉 I may or may not be a villain myself, I guess the world will never know *Evil laughter*
Hope you all liked this interview with Stephanie, Luvs!
Tomorrow's author K.M. ROBINSON
Author of her Debut novel
GOLDEN
HAPPY READING, LUVs