Hello Luvs!
How are you liking my Back To School event?
Lately if you've noticed I've been doing an event each month with a theme. Last month's theme was Character Chat's where I interviewed author's characters! you can check those out –> here
This month's theme is back to school! I am interviewing authors with a little storyline of a day in High-School!
Today's amazing author is Sherry Ficklin author of Queen of Someday and The Canary Club!
About the Author!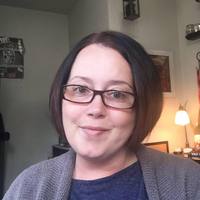 Sherry is a full-time writer from Colorado and the author of over a dozen novels for teens and young adults including the best-selling Stolen Empire series. She can often be found browsing her local bookstore with a large white hot chocolate in one hand and a towering stack of books in the other. That is, unless she's on deadline at which time she, like the Loch Ness monster, is only seen in blurry photographs. Sherry also writes Romantic Fiction under the pen name S.J. Noble and appears as a guest speaker at several conventions annually. You can find her at her official website, http://www.sherryficklin.com, or stalk her on her Facebook page http://www.facebook.com/sherry.ficklin.
---
You walk into the doors and go to your locker, what would your bookish locker look like?
Probably full of Cassandra Claire books. I just re-read the whole series.
We go to homeroom, the class is talking about a book. Which book is it?
Royal Bastards. It's pretty much a YA Game of Thrones
For me, math is the most frustrating part of the day! What's the most frustrating part of being an author?
Marketing is hard, but the most frustrating is when you want to be writing but end up stuck doing ANYTHING ELSE.
1+1 = 2… so which characters from your book should we pair together to make a disastrous combination? … as disastrous as I feel about this math class.
Zoe from Losing Logan and Peter from Queen of Someday. She would pound him into the dirt.
Your next class is art! What would you love to see drawn out from your book?
I've often thought a Chasing Daybreak graphic novel would be amazing. I'd love to see my vampires in the flesh (sort of).
The bell rings and you grab your art supplies to take to your locker, on the way… you see your crush! Do you go talk to him or run in a different direction? Have you ever run into any swoony guys on purpose… literally or metaphorically? 😉
I touched John Barrowman's and Steven Amell's butts (with permission). What can I say? I like my men strong and broody.
We get to lunch and I forgot mine…again. What did you bring… and can you share? I'm starving!
I eat like an unsupervised toddler so I probably packed pop tarts and brownies, and I always share!
Now it's time for gym, do you want to ditch and go to the library or stay and play? What's your favorite sport?
I am more of an athletic supporter (snickers). I do love football–but to watch not to play.
Some of you may be taking notes in history, but I'm staring at the cute guy in the corner, wishing we had our own history I could be thinking about. Do you study the era you write about like I'm studying this guy, or do you wing it like I'm considering within my next conversation with this guy… I mean…did I say that for everyone to hear? Answer the question: how much research do you do for your novel?
SO MUCH RESEARCH. A lot of what I write is historical so I easily spend a month doing research before ever typing a word. Of course, then I like to take the history and twist it into a pretzel.
Thanks for being a distraction in history, now lets get to music! We are late so we end up playing (what instrument)? Do you have a favorite song or genre of music you listen to when writing?
I played flute for like five seconds. I do listen to a lot of music when I write, for Canary Club it was a lot of 1920's classic swing and a good amount of modern electroswing. Caravan Palace is my jam.
Off to Chemistry! My favorite class… wait, not like the swoony Chemistry? Drat! well, let's hope we get to make something explode today! What was the most explosively cool thing you've been able to do as an author?
I got to do a live action book trailer for Losing Logan and that was unbelievably rad. Probably the closest thing to having your book made into a movie is a live action trailer, and I got to be there for every minute.
Today went well! We didn't get to make anything explode but maybe next time! What book should we fan-girl over on the bus today?
Can we talk about Anne & Henry by Dawn Ius? Because HOLY CRAP I loved that retelling.
Thank you so much for letting me interview you!
Thanks for sitting with me! It's always fun to chat with fellow book lovers!
---
I loved your replies, Sherry!!!
I eat… the same way XD I will eat anything and everything that is put in front of me especially if it's sweet lol
Have you read Sherry Ficklin's novels?
Check out her Goodreads page here
Thanks for reading, Luv!