Hello Luvs!
To see interviews from the past week click HERE to go to the special events page!
I hope you are ready for ANOTHER interview! we one more week full of interviews! so, let's jump into this one with the awesome T. Damon!
About the Author
T. Damon lives in Northern California, where she spends most of her time imagining new worlds and bringing them to life. Though most of her professional life has been in the zoological field, she has always maintained a passion for writing, and it was her love of animals and nature that inspired her to create The Forest Spirit series. T. Damon also harbors an interest in anything magical, spiritual, or paranormal. When she's not writing, she enjoys spending time with her husband, young daughter, and pets.
---
You walk into the doors and go to your locker, what would your bookish locker look like?
Lots of beautiful artwork featuring faeries, trolls, and witches. Crystals hung from the ceiling, and a special spot for smudging– because sometimes the energy at school can be thick and/or negative, so I'll need a way to cleanse it!
We go to homeroom, the class is talking about a book. Which book is it?
They're talking about the entire Forest Spirit series! Book 3: The Reckoning, was recently released, so there's much to discuss in terms of how it relates to The Falling and The Haunting. There's debate over whether The Haunting or The Reckoning is scarier!
For me, math is the most frustrating part of the day! What's the most frustrating part of being an author?
I would like to say writer's block, but in actuality its keeping all the details of my stories straight! I'm ashamed to admit that I often need to go back in books I've written and reread certain aspects so I can connect them or refer to events for the later installments.
1+1 = 2… so which characters from your book should we pair together to make a disastrous combination? … as disastrous as I feel about this math class.
Putting Garmon, the leader of the Faery Kingdom army with pretty much anybody! He's quite the grumpy character, so he tends to find flaws with the beings around him, and is not shy about calling them out on them!
Your next class is art! What would you love to see drawn out from your book?
I would love to see a beautiful rendition of my favorite friend pair– Myso the troll and Basil the skunk.
The bell rings and you grab your art supplies to take to your locker, on the way… you see your crush! Do you go talk to him or run in a different direction? Have you ever run into any swoony guys on purpose… literally or metaphorically? 😉
Definitely go talk to him! Boys can be just as oblivious as the nymphs, he might not realize that I'm into him right away. It's always fun to have a little flirt, too!
We get to lunch and I forgot mine…again. What did you bring… and can you share? I'm starving!
A delicious sandwich! Nymphs make the best bread, and the bread definitely makes the sandwich. And let's not forget chips! To me, they're the most important part.
Now it's time for gym, do you want to ditch and go to the library or stay and play? What's your favorite sport?
I'm down to stay and play! Acornball is a great game that the nymphs play. But if Acornball gets boring, I'd be very interested in heading to the library to catch up on my latest read (which is probably a book by Lyssa Chiavari or Holly Black).
Some of you may be taking notes in history, but I'm staring at the cute guy in the corner, wishing we had our own history I could be thinking about. Do you study the era you write about like I'm studying this guy, or do you wing it like I'm considering within my next conversation with this guy… I mean…did I say that for everyone to hear? Answer the question: how much research do you do for your novel?
I do a fair amount of research, especially for my characters' names! I want the name to reflect the true nature of each character I write.
Thanks for being a distraction in history, now lets get to music! We are late so we end up playing (what instrument)? Do you have a favorite song or genre of music you listen to when writing?
I actually play the bass in real life, and have played in several bands since I was a young teenager. I even played in a Roy Orbison cover band in college, which was really fun! I tend to avoid listening to music while I write since I personally find it distracting, but when I'm not writing I prefer to listen to music from the 50's and 60's, especially teen idols and doo wop. I can never get enough of Bobby Rydell, Bobby Darin, The Drifters, Elvis, Ricky Nelson, Lloyd Price, Frankie Avalon, and Dion and the Belmonts!
Off to Chemistry! My favorite class… wait, not like the swoony Chemistry? Drat! well, let's hope we get to make something explode today! What was the most explosively cool thing you've been able to do as an author?
I had a booth at a local author's event at the Charles Schulz Museum in Santa Rosa, California, where I live. It was amazing to meet so many young fans, some of whom were aspiring writers!
Today went well! We didn't get to make anything explode but maybe next time! What book should we fan-girl over on the bus today?
Actually, I'd recommend fangirling over a young adult contemporary novel entitled A Girl Named Dracula by K.L. Teal. It's fun, relatable, and an easy read! I'd also definitely recommend checking out Lyssa Chiavari's latest book, Cheerleaders from Planet X!
Thank you so much for letting me interview you! 
You are very welcome! Thank you so much for the opportunity!
---
adding "A Girl Named Dracula" to my TBR on goodreads right now! ❤
THE BEST MUSIC IS 50s MUSIC! I love the 50s!!!!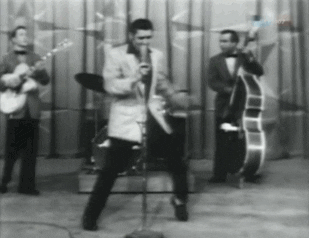 I loved your answers T.Damon!
What was your favorite Question/answer, luv?
Mine was when she mentioned Garmon… totally seems like a lovable character ;P
HAPPY READING, LUVs